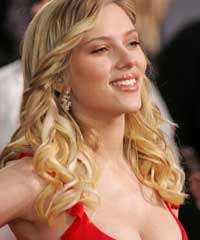 Scarlett Johansson has denied rumours that she is pregnant with Sean Penn's baby.

The actress sparked speculation after she was pictured in Malibu over the weekend looking more curvaceous than usual.

The 26-year-old appeared to have a small bump protruding beneath her tight grey vest and black lycra leggings while on a run with her new boyfriend, Sean Penn, 50.

"Scarlett is not pregnant," the Daily Mail quoted her spokesperson as saying in a statement.

'She's outside running and it's simply the placement of her shirt that is misleading. She's been training for The Avengers for over four months and is in the best shape of her life.'

The pair were joined for the jog near Penn's Malibu home by friend Owen Wilson, who puffed away behind the couple in a long sleeve T-shirt and shorts - the boys soon powered ahead though, leaving Scarlett trailing behind in their wake.